$seseznamemsourozencu = "ano"; ?>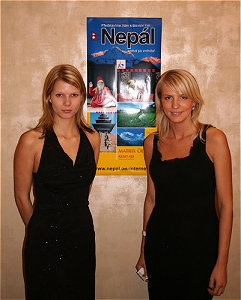 First official "Nepalese Evening" was organized by NTB Czech Republic in cooperation with Nepalese Trade in Hotel Holiday Inn on 15.03.2006. Touroperators and media had great opportunity to meet officials from Nepal Tourism Board and more than 14 Nepalese tour operators. They have enjoyed also Nepalese specialties served during great cocktail dinner. Promotional materials (CD-ROM, posters, brochures etc.) were available at their disposal. Every participant also got a small traditional gift. Click on icon of photogallery to view pictures from the workshop.
15.03.2006 - Nepalski Wieczor w Hotelu Holiday Inn w Warszawie
15:30 - 16:00 - Registration of participants
16:00 - 18:00 - Spotkanie Tour Operatorów w Sonata Room w Holiday Inn
17:00 - 18:00 - Konferencja Prasowa w Ballada Room w Hotelu Holiday Inn
18:00 - 21:00 - Cocktail powitalny w Hotelu Holiday Inn

Miejsce spotkania: Hotel Holiday Inn, Ul. Złota 48/54, 00-120 Warszawa.
Workshop Participants
| | | |
| --- | --- | --- |
| Name | Position | Company |
| Mr. Kishore B. Mathema | Sales and Marketing Manager | Kathmandu Travels and Tours |
| Mr. Tilak Thapa Magar | Managing Director | Nepal Trail Blazer |
| Mr. Pawan Bir Singh Tuladhar | President | Dharma Adventure |
| Mr. K.M. Ranjitkar | General Manager | The Malla Hotel |
| Mr. Manohar SJB Rana | Director | Yeti Travels |
| Ms. Gayatree Kansakar | Managing Director | Nepal Kamaz Tours and Travels |
| Mr. Lopsang Sherpa | Trekking Executive | President Travel and Tours |
| Mr. Sampurna Dev Thapa | General Manager | Zenith Travel |
| Mr. Arun Kumar Regmi | Managing Director | Kathmandu Experience Travels and Tours |
| Mr. Bishnu Subedi | Managing Director | Nature Trail Trekking |
| Mr. Bharat Kumar Basnet | Managing Director | The Explore Nepal |
| Mr. Ramesh Luintel | Managing Director | Euro Asia Travel and Tours |
| Mrs. Nandini Lahe Thapa | Director | Nepal Tourism Board |
| Mr. Sanjeev Prasad Pandey | Officer | Nepal Tourism Board |